In my latest Pinterest Made Me Do It (PMMDI) installment, I have four dozen mini-cupcakes sitting in my fridge, calling my name.
Blackberry cupcakes with honey is a recipe by Laura Bashar of Family Spice. It's definitely a winner! The frosting with honey is to die for.
A few tips:
When the recipe says softened, it means softened! I didn't wait long enough and the cream cheese and butter, for the frosting, didn't incorporate as well as I would've liked. 

One of these doohickies, an adjustable measuring cup, is a sanity saver when measuring and pouring something ooey and gooey like honey. Oh, and a batter pourer like this one is a huge help, too. If you don't have one, it's well worth the investment.
The recipe doesn't say to strain the heated blackberry-honey mixture, but I recommend it. Otherwise your cupcakes with be seedy.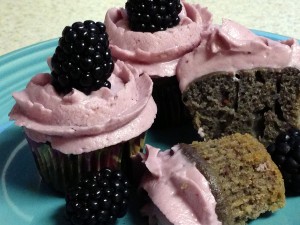 Blackberry Cupcakes with Honey
Sorry for the poor photo quality. I'll figure out how to take a decent photo one of these days. 😉
{ 4 comments }