Maybe I should just start a Pinterest Made Me Do IT (PMMDI) category since it's definitely a theme of late…
While I love my gorgeous bathroom cabinet, this project is definitely has the biggest happy bubble factor yet. I shared last post about my new kryptonite: washi tape.
Behold the awesomest keyboard I've ever owned: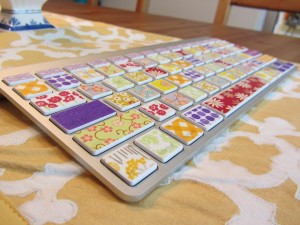 I've seen several photos on Pinterest (for inspiration, click here, here, here, and  here). I wasn't sure if I wanted to tackle this project—it's not for the faint of heart! But if you're looking to spend a few hours on a project that doesn't require you to think, only do, this is the one for you.

It's pretty straight-forward but here are a few tips:
Clean your keyboard to get the skin oils and gunk off before you apply the tape. That's one reason I chose my wireless keyboard instead of my laptop—not only could I turn it off while cleaning, I could remove the batteries. Not to mention that if I royally screwed up somehow, it's a bit more palatable to replace a keyboard than a laptop.
Keep an exacto knife and sharp (comfortable) pair of scissors handy.
Make a template if you can. I use a wireless keyboard and realized, as I was pondering the template issue, that it's small enough to fit on the bed of my HP scanner/printer. So I made a copy of my keyboard, taped a sheet of wax paper to the copy, and used that to arrange the tape to my satisfaction. Washi tape is super responsive to the exacto knife, so you can slice and trim the tape on the wax paper without cutting all the way through the template paper. When I was done with the template, I used a transfer sheet (from my vinyl projects) to move the washi tape from the wax paper to the keyboard.
I still have to remove some of the tape and use my scissors for the last trims. But that's the beauty of washi—with a low tack adhesive, it's easy to remove and reapply.
All in all I LOVE how this turned out. Now I have a pop of color on my desk that makes me smile when I use my computer.